Powhertz' favorites in music in

Still burning the sacred fire of rock, the author and administrator of Powhertz delivers once again its own charts of the songs that animated him the most through the past year. As I repeat each and every year, this charts does not even necessarly represent the songs that I judge to be the best and not even my favorites on January 1st 2010, only those that marked me the most, personnally,

all through the year

.

We can't say that 2009 was a great year. I found it particularly bad for pop, where almost all the songs look alike and just get me bored (David Guetta, Sean Kingston, etc.). On the rock scene too, there has been a few lacks compared to the very good years. As an example, I would say that my #1 and #2 of 2009 definitely wouldn't have done any better than #3 and #5 in 2008, even though it was far from being a legendary year...

...but one event really spiced things up, and it's the return of grunge band

Alice in Chains

! It's so much the last band I was expecting to ever make a comeback!! For those who would not be too familiar with the trouble path of the band, let's summarize the facts a bit. In 1999, AIC was releasing a first album of its greatest hits, 3 years after its last show. The same year, it was launching a box set. It will be followed by a live album in 2000 and even a SECOND (!!) greatest hits album in 2001, completing its contract with its record company in a pretty dumb way. That's not a surprise though, since everybody knew that Layne Staley, one of the band's two singers, is having major problems of drugs addiction and (consequently, we can guess!) of physical and mental health. That same Staley dies of a drugs overdose in 2002 and everything leads to believe that Alice in Chains was buried at the same time as its singer.



But here they are coming back in 2009, 14 years after their last studio album and 13 years after the legendary MTV Unplugged concert that marked the beginning of the end for the band! An extremely surprising resurrection, but a strongly efficient one. Staley's replacement, William DuVall, surprises. With its mulatto tint and its "afro" hair, he doesn't have anything of the traditional grunge looks, but he blends very well into this music and compensates pretty well the heavy loss of Staley. The album that the reunited band gave birth to in 2009,

Black Gives Way to Blue

, certainly isn't a masterpiece but remains nonetheless one of the rare good albums of 2009.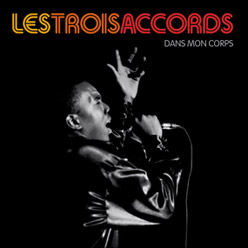 However, I will nonetheless admit that I preferred the

Dans mon Corps

album by the Trois Accords! My record of the year! Following a T.V. interview in which singer Simon Proulx was saying that their new album will reveal a more mature side, I feared that the Quebecer band would lose the goofy aspect that made its fame and its success. So what a joy it was to see that it was nothing of that!!! The integration of the brass on 2 or 3 songs, yes. One song with serious and even sad lyrics, yes. But that's pretty much all! They offer jewels of lyrics to make us laugh out loud, like (freely translated from French) "

I know she was called Serge [a man name] before being called Bianca, but the words whe pronounces qu'elle prononce sprinkle me like a nougat fountain, of food metephors

", or:


I was sweating all the water out of my body




At the end I wanted more




I was like crazy!




I was spreading some everywhere!


Good job, buys! Now that's a purchase that you can't regret!




The wait is over, here are the favorites of Powhertz in 2009! New feature this year: a guitar legend! For those who would find that some of my choices are a little too heavy, it will now be possible to spot them easily using this scale:


= presence of electric guitar



= slightly heavy, but should be acceptable for a large majority




= really heavy, sensible ears keep away!



********** The great # 1 of 2009 **********

Alice in Chains


Check my Brain


http://www.youtube.com/watch?v=SZTQ7xlFFA8
Not a masterpiece, not a future great classic, but a truly different final product, that we end up wanting to hear every day! Brilliant use of 2 guitars, including one in bends all the song's length, a job of precision and probably a first for me I think... a unique sound, while still perfectly respecting the sound ambiance that characterized Alice in Chains during its 6 or 7 glorious years in the grunge wave. A total success!

#2
Godsmack


Whiskey Hangover


http://www.youtube.com/watch?v=xSPNbJS-ye4

Very characteristic of Godsmack: simple but extremely efficient in the reach of a heavy, loud but round sound that completely fill our ears! Impossible for me not to increase the volume when that one starts!

#3
Alice in Chains


A Looking in View


http://vimeo.com/5824939
Maybe slightly too long uselessly, but WOW! A louad sound to fully satisfy both the metal fans and the grunge fans, printed of an extremely palpable intense emotion, screaming of truth. An awesome ambiance, that doesn't waste any time to install itself right on the 1st second. A #3, but really not far from a #1!

#4
Silversun Pickups


Panic Switch


http://www.youtube.com/watch?v=AG8fugqFn9Q

I had really liked

Well Thought Out Twinkles

, but I was not close to foresee that this relatively "low profile" small band, with its singer that sound like a girl, may someday release a track to take that seriously. It's truly a big one! All year long, I never had any doubt that it would make my top 10. Recommended to enthousiasts of all kinds of rock.

#5
Cage the Elephant
Ain't no Rest for the Wicked
http://www.youtube.com/watch?v=U631FGnXDXY



Without any possible doubt my discovery of the year! A rich, original, refreshing sound. Different and interesting lyrics as well. Another big gun of this year 2009.

#6
Les Trois Accords


Caméra Vidéo


http://www.youtube.com/watch?v=phAk3z27-r4

Fairly different from what Les Trois Accords used us to, which is already a positive impression. But most of all, it is so OVERFILLED of joy, an explosion of pure contagious happiness! They get me into their festive ambiance, and obviously I enjoy it! Thanks Les Trois Accords for having distributed so much joy to Quebecers through the radio waves this year!

#7
#8
Cage the Elephant


Back Against the Wall


http://www.youtube.com/watch?v=xlQ_NlX4MFw

Definitely less special that its predecessor

Ain't no Rest for the Wicked

, but no less moving! Did I say that Cage the Elephant is my far my discovery of the year? :-)

#9
Disturbed


The Night


http://www.youtube.com/watch?v=FRWGcny1iI4

Disturbed doesn't lose much of its efficiency. I particularly like the end!

#10
Chevelle


Jars


http://www.youtube.com/watch?v=8keCpueDqR0

In my opinion, the best of Chevelle' career. I still enjoy very much their first hit

The Red

, but

Jars

really has an arousing intensity, superior to any other song from the U.S.-based band. NB: If you asked me today, no doubt that I prefer

Jars

to

The Night

, but I keep the order as is because I consider having liked

The Night

more throughout the year.

#11
Slipknot


Dead Memories


http://www.youtube.com/watch?v=kP5PqJpk5lQ

Slipknot successfully did a more relax and more emotive song, without losing its essence and take a distance from what it does best. It's actually a trap into which it got caught in the past, and again this year with

Snuff

, that I honestly find a bit uninteresting and that will not even be found in my personal chart of 2010.

#12
Shinedown


Sound of Madness


http://www.youtube.com/watch?v=zkYXE0-JsY4

Threatening!! Very efficient! "

Well take your medicine!

" "

When you gonna wake up and fight?

"

I like the 2nd verse as well, especially the beginning:
"

I'm so sick of this tombstone mentality,




If there's an afterlife,




Then it'll set you free.

"

#13
Foo Fighters


Wheels


http://www.youtube.com/watch?v=ONkiLR5Ehys

Among the best compositions of Foo Fighters' modern era. I sincerely believed since its release that it had good chances to qualify for my top 10 of the year, but competition is strong...

#14
Cavo


Champagne


http://www.youtube.com/watch?v=oA3pESvUl3I

I was liking it better in the beginning before it was overplayed on the radio, but it is no less a song that marked my year 2010.

"

Could have been the champagne, the champagne. Could have been the cocaine, the cocaine

"

#15
AFI


Medicate


http://www.youtube.com/watch?v=wCwEBz3ego8

Still not convinced that it is at the level of

Girl's not Grey, Silver and Cold

or

Miss Murder

, but it's definitely at AFI's level and that fully deserves its place in my top 20 of 2010.

#16
Marilyn Manson


Arma-goddamn-motherfuckin-geddon


http://www.marilynmanson.com/#/cinema (quand les vidéos apparaîssent, appuyer la flèche vers le haut)

Exageration of vulgarism as always, not much more maturity acquired from the last albums... but I really found it good and I was convinced that it would know much more success than that and would give a new start to Manson's career. Unfortunately, it wasn't...

#17
Billy Talent


Devil on my Shoulder


http://www.youtube.com/watch?v=dBzwms98KZY

I'm really on the path of become a Billy Talent fan! As much as I did not like them in the first years of their career, as much in the last few years I like almost all that they release to the radio! Another track that well reflect the insane energy that band demonstrates in concert. "

I got the devil on my shoulder

" !

#18
Les Trois Accords


Dans mon Corps


http://www.youtube.com/watch?v=pKl0Je8jTi4

Completely crazy!! Men who are singing the puberty of a young girl, it's already funny. But the way they do it, with a charming flute melody and the so lonnnnnnnng pause between the "

il y a des

" and "

.....................changements

", it's so delightful!

#19
Les Cowboys Fringants


La Catherine


http://www.youtube.com/watch?v=Ggmgr8Zghg0



Definitely a comeback to the style of the

Break Syndical

album, which is not a bad thing. Really gets me moving, like in the good old days!

#20
#21
#22
#23
Seether


Careless Whisper


http://www.youtube.com/watch?v=EK-EgnboXHo

A cover, it's always easier... but if I could make abstraction of that and consider it as an original song, maybe it could have been even higher than that. Much emotion, a song for all despite the guitar that's a bit heavy in the intro and choruses.

#24
Les Cowboys Fringants


Chêne et Roseau


http://www.youtube.com/watch?v=FZIoarxXqmA



Truly strong! Certainly disadvantaged by the fact that I heard it only once on the radio in 2009 (why was that so weak airplay?!), but it's really a nice song. A little short, but it proves a great efficiency by going right to the point without stretching a single moment.

#25
MC Lars


Guitar Hero Hero (Beating Guitar Hero Doesn't Make you Slash)


http://www.youtube.com/watch?v=g7V7BaRAy0k

Mostly for the lyrics. Not sure that the teens will appreciate being told that they should play a little less video games and a little more in the real world, but me I liked it much!

#26
Ariane Moffatt


Jeudi, 17 Mai


http://www.youtube.com/watch?v=5CvG7tk_KGY



Extremely surprising from Ariane Moffatt. Very electro, completely out of her usual style. But it really sounds big! I don't like many of her songs, but this one really stands out!

#27
#28
Muse


Uprising


http://www.youtube.com/watch?v=w8KQmps-Sog

I don't like the "Come on"'s that are constantly coming back, but that's just a personal taste. I'm the first to admit that it's very close of being a great song despite its relatively low position in my annual personal chart.

#29
Mastodon


Divinations


http://www.youtube.com/watch?v=uxelXPg961M

Not the greatest melody, but really an intense metal like we find very few these days. I think it is a "must" for all metal fans. To watch with the superb, mysterious video.

#30
Mad'moizèle Giraf


Sub Su'a Job


http://www.youtube.com/watch?v=fzQI43hbhD0



Me neither, I don't want to go to work!!! A gentle little acoustic song, often circumstantial! It's true that it's not right, "always caught between the same four walls", but life is made that way for so many of us, unfortunately!

#31
Linkin Park


New Divide


http://www.youtube.com/watch?v=ysSxxIqKNN0

It is obvious that Linkin Park turns around in circle.

New Divide

sounds exactly like a

What I've Done

2, and not even necessarly that far from

Somewhere I Belong

. But I think this one still deserves some attention, even if it was only for the segment between 2:38 and 2:53, where sounds of electric guitars and electronics merge with intensity.

#32
Big B


Sinner


http://www.youtube.com/watch?v=borwYU3GEb4



With this extremely catchy chorus, I do not understand that it was not a greater commercial success. An acoustic song that could please anybody. Another one that I consider to have been disadvantaged in this chart by its too low radio airplay.

#33
Sick Puppies


You're Going Down


http://www.youtube.com/watch?v=K2bohKixLt8

It made me discover a violent side of the Sick Puppies that I didn't know before, that surprised me and left me cold in the beginning... but at some point, I came to like it always better and better. We can also condition ourselves to see solidarity rather than violence.

#34
Discobitch


C'est Beau la Bourgeoisie


http://www.youtube.com/watch?v=40_i2JdRinM


A song that I discovered only 2 days before the end of the year, so obviously it could not get very high in my chart. But still, it catched me instantly! There is always one or two shameful pop songs in my personal chart every year, and this year of this one from the French guys of Discobitch!

#35
#36
#37
#38
Rammstein


Pussy


Réservé aux 18 ans et plus

Rammstein has always liked to chock a bit, whether it was by its song on cannibalism (

Mein Teil

), its hose-penis when it performs

Bück Dich

in concert, the horrible pictures of the bands' members in the sleeve of its

Sehnsucht

album, the singer's auto-flegallation in concert during

Bestrafe Mich

, its songs with violent and/or bloody lyrics such as

Wollt Ihr Das Bett in Flammen Sehen?

or

Rammstein

, etc. This time, it aimed at the highest level of "shockery" with a song that promotes beastly sex, accompanied by a video that is nothing less than a short porno movie in which each of the band's members fully f*cks a presumed whore. There's a certain point where it's too much, where it becomes much more an enterprise of how to shock as much as possible than a music enterprise. A point where even myself I start getting at least a bit shaken up, if not shocked. That point, Rammstein reached it without a shadow of a doubt with

Pussy

...
...
...but it's still some Rammstein nonetheless! It is very, very far from being their best work in their career, but it still sounds like Rammstein, so almost automatically there's a base that I love, and that deserves a spot in my personal chart of the year.

#39
Creed


Overcome


http://www.youtube.com/watch?v=8ocxkmdadPE

A pretty successful comeback I think, but that definitely hasn't played enough on the radio, which certainly penalize it here. I haven't heard it more than 3 times in 2009...

#40
Staind


This is It


http://www.youtube.com/watch?v=Rt_e07qQeKw

Not a truly great song, but definitely and by far Staind's best since

So Far Away

in 2003. After these 6 years of failures, it worth rejoice with

This is It

!!

#41
Rise Against


Savior


http://www.youtube.com/watch?v=e8X3ACToii0

A clear step under

Ready to Fall

, and definitely nothing new in the band's career, but

Savior

nonetheless counts within my favorites from Rise Against.

#42
#43
#44
Breaking Benjamin


I Will not Bow


http://www.youtube.com/watch?v=4wyJIIP5a1Q

It's a chance that the singer is not as good as David Draiman, that song would be impossible to distinguish from the band Disturbed!!! Not original, but still entertaining.

#45
Puddle of Mudd


Spaceship


http://www.youtube.com/watch?v=MyX2vg1AVqk

Another one kind of "over-sexualized", but still less shocking than than Rammstein's

Pussy

... Another one which very late release near the end of the year is bad for its position in my chart of the year.



All night long, I been drinking




About how to get your panties on the floor





So let's get it over and just get naked


The next one would have been

The Fixer

by Pearl Jam, a definite deception as far as I am concerned, but because it is Pearl Jam I nonetheless always listen to it whole.

I song that I discovered only this year but that dates back from 1999 so it was not eligible for 2009:

Colony

from Swedish band In Flames. Some high-quality metal, mature enough for an annual top 20...




Powhertz




2010/03/11 *


* Ranking ended around January 6, but the article and page layout in date of March 11, sum of a major lack of time and computer problems!