POWHERTZ'
FAVORITES IN MUSIC
IN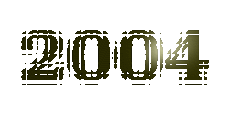 Yes, yet another year has ended. What are we thinking of when we look back at 2004 in music? For me like for thousands of other Quebeckers, 2004 has been before anything else the revelation of the band Les Trois Accords. The suburb strikes again; after the Cowboys Fringants of Repentigny and L'Assomption, it's now turn to the Trois Accords from Drummondville to conquer the province of Québec this year! We must say that this huge success was deserved. Not that the guys are incredible musicians and even less that the singers have a great talent, but Les Trois Accords fulfilled a need that has remained almost vacant for too many years in Québec. All the way through the '90s, the United States had their funny bands of alternative rock, not serious but highly entertaining. I'm mainly thinking of Weezer, The Presidents of the United States of America, The Bloodhound Gang, Wheatus, maybe even Blink 182 and Primus sometimes. Meanwhile, what did we have in this genre in Québec? Mononc' Serge? Not the same style at all. There has been a few titles by other artists, but nothing big. It is in this context that are coming, 10 years later, Les Trois Accords.



The album

Gros Mammouth Album Turbo

appears to me to be inspired from the work of the previously-mentionned American bands, but also by the Cowboys Fringants of the early days (funny and aimless songs of the first albums

12 Grandes Chansons

and

Sur mon Canapé...

). They have the same way to build up a funny story that seems to have been written in the middle of a party while everybody was drunk, but still conscient enough to hold a pencil and write their stupidities! Without being absolutely genious, it is high entertainment and a very well-invested fifteen bucks! And for those who would be disappointed of the new single

Saskatchewan

and who would tend to believe that the albums is already a bit blown out after only 2 good singles, think again! It's only a question of marketing, nothing more! A young band can rarely allow itself not to release a ballad after 2 rock singles, otherwise risking to get labelled early in their career and that people think that the band has only one precise style of which it just can't deviate. A few popular bands tried the experience, Disturbed for example. Result: Disturbed is still able to sell records, but it is definitely and likely forever labelled to a single precise style. After only one record, the singer David Draiman was declaring that it would be using his voice at wider levels on the 2nd record, and everybody was holding off a laugh! That's for Disturbed, and that's the kind of situation that the Trois Accords will likely avoid by placing a ballad at the right time.

That said, no,

Gros Mammouth Album Turbo

really isn't about to be blown out! I can tell you from a very reliable source (the producer David Roy himself!) that at least another single will be released from this album, and almost certainly even others after this 4th single! There are so much excellent potential choices that would fully justify it:

Vraiment Beau

,

L'eusses-tu cru?

,

Une Minute

,

Oh ma Jolie

,

Turbo sympathique

, and much more.

Enough flowers for the "drunk guys", let's get to the Powhertz' author and administrator's favorite songs of 2004! Difficult choices to make in the top 20!


Hawaiienne
Les Trois Accords
Despite the risk of looking unintelligent, this has clearly been my favorite song of the year, over! I don't know if it would have had the same effect with serious lyrics, but whatever! The return after the "[...] mais en partie d'où tu viens" part really is hitting hard!

Slither




Velvet Revolver



Maybe a bit disappointed of this slowdown at choruses, but it's the kind of detail that never prevented a band like Pearl Jam to produce excellent rock pieces.

Slither

is an example of raw power! It is of a great relief for the true amateur of true rock!

Personal Jesus




Marilyn Manson



Please understand that I do not judge on merit but only on the result! I understand that this song is mostly good because the original from Depeche Mode was, but still I find that the cover is better than the original. It's like this track was a perfect fit for Manson; it probably was one of the best covers he could have deceided to do. The voice and the musical-style touch of Marilyn Manson put this old song up to date for the years 2000.

Megalomaniac




Incubus



A bit aggressive, but so great! Does not lose any effiency with time; even nearly one year later, it is still the same pleasure when this song starts at the radio.

Ride
The Vines
Simple, I'd even say very simple, but I'm not sure to have understood why, it is really catchy! Maybe because of the "clap-clap"'s that are making the rythm of the verses? Anyway, I remember that this simple song gave me a lot of fun, as much in my car as at home.

Mein Teil
Rammstein
A was slightly disappointed at first, a bit because of the lack of originality but mostly because of another factor that I could not identify. I think I found it: it's the singer's voice in the verses, which is very different of what we found on the previous records. Less deep & low, less guttural, less bass, etc. Finally, after listening to it a few times, I've been forced to realize that it's some good old Rammstein of which I have no reason to be disappointed, it is even excellent! Interesting intro and finale, soft but in the logic of things.

Loin d'ici
Les Trois Accords
The song that really made me realize the link between Les Trois Accords and Weezer! Also the one that made me buy the CD, because I seldom purchase a CD for only one song.

We're all to Blame
Sum 41
A band at its apogee. No doubt that it is the best one from the band, even despite persistence a little impression of imitation of Metallica, although much less irritating than in

Still Waiting

. An impeccable development, a beauty from one end to the other up to the wonderful finale. Good lyrics that mean something. It's a little masterpiece, so much that I'm almost ashamed that it is not my #1 of the year! I think it has been disasvantaged by the fact of coming a little late in the year and, most of all, of not having been played in very heavy rotation at the radio and at MusiquePlus. Quite possibly the most underrated rock song of 2004.

Enjoy the Silence (Remix)
Depeche Mode, remix by Mike Shinoda from Linkin Park
I loved Mike Shinoda's remix of this old Depeche Mode classic! It is not a major makeover, but it makes the song much more rousing and gives it a much more current sonority. When we look at it, it's the meeting of masters of the sound of the '80s with a master of the sound of the years 2000 (like Linkin Park or not, nobody can deny that Mike Shinoda is among the people who most created the sound of the years 2000 up to now).

Silver & Cold

*

AFI



Liked less than

Girls not Grey

, but still liked it much. Another song fun to sing.

Lying from you
Linkin Park
Instant coup de foudre! My favorite of the band this year. A little mysterious, particular ambiance that makes the color of this song.

Amerika
Rammstein
I'm still questionning myself on whether it was relevant to make a that anti-Americans song (and at the same time locking themselves from the largest market in the world!), but still it is yet another good song for the German band, pretty different from what they're usually doing. Much more rock and much less of the particular Rammstein style.

Getting Away with Murder
Papa Roach
What a change for Papa Roach! A drastic change in sound, which is getting closer to Korn's without falling in copy. An evolving band.

Duality
Slipknot
Obviously, a so heavy song with lyrics of that kind may look like a vulgar mass of noise at first time, but it definitely worth being listened to again and again, and on a good stereo! Slipknot is really reaching the top with this song. It is one of the best (notice that I did not say necessarly THE best one!) metal tracks in modern era. Something to satisfy the intelligent amateur of metal (despite the lyrics a bit too "destroy"!).

La Manifestation
Les Cowboys Fringants
Don't be surprised of the relatively low position; it's mainly because my "trip" of this song was much more concentrated on the years 2002 (year of release on disc) and 2003 than on 2004 (year of release at the radio)! It's some Cowboys the way I like them!

Some Postman
The Presidents of the United States of America
A pretty funny, light and cool return. However, it lost a bit of its interest after listening to it a few times.

Followed the Waves
Auf der Maur
Excellent solo debut for the ex-Hole and Smashing Pumpkins. Very surprising. A BIG sound, for which she was helped by good collaborators such as Josh Homme (Queens of the Stone Age) and James Iha (The Smashing Pumpkins).

What you are
Audioslave
The album's official single that went the least noticed, but it's normal for a 5th single of a same record! Personally, it's my 2nd or 3rd favorite of these 5 radio singles.

Parce qu'on vient de loin
Corneille
I remember very well the first time I heard it. It was at the pop radio, from which it is pretty rare that I catch songs for my annual personal top. I wondered so much who was singing that! I thought it was a new artist. Hell no, it was Corneille, but in a superbe song of accoustic guitar with interesting lyrics! What a wonderful surprise! My opinion on the singer drastically raised all of a sudden. And finally it became one of the biggest hits of the year in Québec (not a hazard).

Just Like You
Three Days Grace
Simple, but well-powered by the voice of singer Adam Gontier, that I'm learning to appreciate more and more. I pump up the volume every time! Still not as good as last year's first single

I Hate Everything About you

, though.

Cold
Crossfade
I liked this song right the first time I heard it in the beginning of the summer on the radio of Québec. Then, it unexplainably took much time to make its debut at WBTZ and MusiquePlus, so much that it's been a nice surprise when it came in! My best rock love song of the year.

Figured you out
Nickelback
Mostly for the bass-driven part before the last verse. The sound quality is so round, so modern, so perfect. I often dramatically increased the volume of the radio just for this part alone!

I Believe in a Thing Called Love

*
The Darkness
In a more parodic style, but it was very entertaining!

American Idiot
Green Day
Just like the band: simplicity and efficiency.

Breaking the Habit
Linkin Park


Broken
Seether & Amy Lee
Duo of a "grungy" singer that I like and the best rock female singer of the moment. Predictable and even a bit mawkish, but the nice guitar and very nice duo of singers are still making a very good song of it in the end.

Time is Running out
Muse
A British sound that can vaguely recall Radiohead, with an interesting use of the electronic aspect.

Born too Slow
The Crystal Method


Somebody Told me
The Killers


Boulevard of Broken Dreams
Green Day
One of the most different, atypical songs in Green Day's career.

Talk Shows on Mute
Incubus


All Downhill from here
New Found Glory
More punk and ordinary than the songs normally found on my personal charts, but the melody is catchy and it worths this fairly high rank.

Wake up (make a move)
Lostprophets


Last Train Home
Lostprophets


I Miss You
Blink 182
Superb... until Tom's voice comes in! Please, don't let him sing!! Mark does the job very well!

The Outsider
A Perfect Circle


Underwear goes inside the pants
Lazyboy
Really just for the lyrics, because for the music, there's almost none!

What's your number?
Cypress Hill


Imagine
A Perfect Circle
Cover of John Lennon's classic, a cover that is very dark but different and (I think) relevant.

La Reine
Les Cowboys Fringants


Right Right Now Now
Beastie Boys
Definitely the most musical of the 3 songs that the Beastie Boys released this year. By far the best, according to me.

Some Kind of Monster
Metallica
Clearly under the average of the legendary metal band's radio singles, but it's still Metallica, it cannot be completely uninteresting!


*released in December 2003, but it's in January 2004 that I really discovered them


Among the next ones on the list...
Cold hard bitch [Jet]
Hysteria (I Want it now) [Muse]
Running Blind [Godsmack]
In the Shadows [The Rasmus]

Note: Like I feared at the time of writing my dossier last year, Evanescence's

My Immortal

effectively drastically climbed into my esteem and should have made my top 20 if I judged it elligible for 2004!

Note: Mononc' Serge's and Anonymus'

Les Patates

has been judged being humor, therefore unadmitted for this chart. Would have made my top 10 of the year.

Honorable pop mentions:
-to Britney Spears for

Toxic

, undoubtly one of the 2 most daring songs of her career, with

I'm a Slave 4 U

. Maybe the pop singer has took the right lane
-to Émily Bégin for

Légende Urbaine

, not that original but still audacious because this kind of international Sean Paul-like sound was simply unexistent in Quebec.

Forgotten in 2002: The Greatest View [Silverchair], Keep Fishin' [Weezer]


---



TOP SUCKS 2004


Those who do not even deserve a comment!

1. [Eamon] Fuck it (I don't want you back)
2. [Tragédie] Hey Ho!
3. [K-Maro] Femme Like U
4. [Marie-Chantal Toupin] Toé c'est moé
5. [Marie-Mai] Il faut que tu t'en ailles
6. [Beastie Boys] Ch-check it out
7. [Mathieu Gaudet] Les Murs ont des Yeux
8. [Mis-Teeq] Scandalous
9. [Lenny Kravitz] Lady
10. [Usher] Yeah (from the start, a guy who deceides to call his song "Yeah" deserves to be here!!)

Alone in its own category:
[Günther & the Sunshine Girls] Ding Dong Song
Oh yes, apart from any other! If you don't know this Swedish, hurry up to visit his Web site to watch the video! It is certainly a joke and not serious, but it's still really funny! Note: the song is not enough; you must watch the video to fully appreciate it!





PowHertz


2005/01/09

minor revision 2005/01/15: added a note on song

Les Patates

and an honorable mention to Émily Bégin