POWHERTZ' VIEW ON THE YEAR 2000
Yeah, this is finally the moment I impatiently waited for all year long: my review of the year in music. So here is my chronicle about my favorite songs of the year 2000, but first, I absolutely need to mention the best album of the first year of this new decade, one of the most pertinent in Quebec's history: Motel Capri, from the Cowboys Fringants.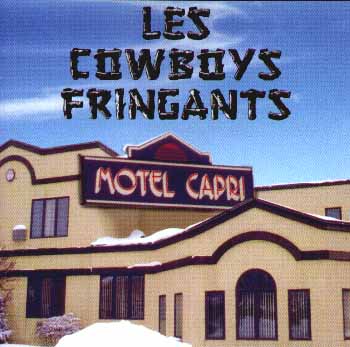 Since it is a French album, I won't translate the whole review that I put up in the original French version of this article, but in short, although it is not made for being international, it is truly a masterpiece for the Quebec nation, in particular for people like me who live in the Lanaudière region, where the band members are from. I am selecting my top songs of the year according to the singles released this year, but if I was also considering the songs released on albums but not playing on the radio, the Cowboys Fringants would certainly take my 3 top spots (Le Plombier, Maurice au Bistro, Awikatchikaën), maybe even more. Just too much. Oh, and did I mention that they might be the greatest live band of all-time in Quebec? Every single show is not only entertaining, it is a huge party. Really something to see.
Now, let's move on to my favorite songs of year 2000! A pretty good year, or at least better than 1999. The highest songs may be a bit less interesting than the highest of average years (except for #1), but an unbelievable flow of songs that I would have liked to rank #10-15 gives me no other choice than doing a top 90 this year...
01. Awikatchikaën [LES COWBOYS FRINGANTS]


The most rousing song heard on the radio this year, I don't accept any argumentation on this! Simple but completely terrific, 100% like this party band is.
02. Voodoo [GODSMACK]
Wild rythms, dark and mystic atmosphere which needs to be listened to a couple of times before really taking effect. I think of Voodoo and I see the times I was listening to it in my car hitting the stering, controlled by the sound of the percussions when the drums come back just before the last straight of the song.
03. The Everlasting Gaze [THE SMASHING PUMPKINS]
The real Smashing Pumpkins of the best days. The first hard-hitting single from the band since The End is the Beginning is the End in 1997.
04. What If [CREED]
Creed scared me when they released Higher as the first single of the album Human Clay; not being bad, it was absolutely not meeting the expectations set high by the first album My Own Prison. I've been very pleased to see that this slow down lasted only for one single, because What If really comes back to their style of solid, heavy and loud alternative, even influenced by Metallica, that we've known with songs like Torn, Illusion et Ode. Bravo. And of course, since it's the best of the 3 singles for Human Clay, it is automatically the one with the less commercial success...
05. Stellar [INCUBUS]
Very surprising and unpredictable the first time, a song that worthed the North-American success it got.
06. Je Joue de la Guitare [JEAN LELOUP]


It is not really new anymore, but it is so Leloup! Indeed, the first time I heard this song was in a concert in July 1998, then it was released on the excellent album Les Fourmis, and finally this year it is out as a single for the radio stations. A much less complete, complex and elaborated composition than Fourmis, but the lyrics are as weird as Leloup's known for and, in the line of simple accoustic songs from him (I Lost my Baby, Sang d'Encre), it is the best.
07. The Best Things [FILTER]
Maybe the best ever from Filter, who is not the first come.
08. Sour Girl [STONE TEMPLE PILOTS]
A song I had noticed on the excellent album No. 4, and indeed it was released as a single and became the greatest hit from the band since the Big Bang Baby, Trippin' on a Hole in a Paper Heart, Lady Picture Show and Tumble in the Rough of the album Tiny Music... Songs From the Vatican Gift Shop which is already 4 years old! A beautiful, soft and mature one from a great band.
09. Minority [GREEN DAY]
What we could call an instant one. I liked it the first time I heard it, but already, a few months later, I don't like it as much as I did at the beginning! Still another very good rock song from Green Day, yet another one on top of the hill they've put up (Basket Case, Longview, Walking Contradiction, Hitchin' a Ride, etc...).
10. Breakerfall [PEARL JAM]
Maybe the most underrated song of the year. This is a rock song without any compromise which is doing a very good job launching Binaural, their latest studio record.
11. Silicone [DANIEL BOUCHER]


Considering that the Cowboys Fringants already had another album before Motel Capri, Daniel Boucher is by far the best new artist of the year in Quebec. He won the Félix-Leclerc 2000 award and won a few more at l'ADISQ, including the author-composer of the year. Silicone is a good rock song that is no good to sing but with very good music. The guitar is bood, but the drums are also very interesting.
12. Teenage Dirtbag [WHEATUS]
A song for frustrated teen students? No, a song a bout true feelings. The composition is good and it's an excellent start for this new band. Just been a bit shocked to learn that it was a boy who's singing, but that OK now!
13. La Désise [DANIEL BOUCHER]


Twisted but so special! It's the kind of song that reminds fantasies from Jean Leloup, but having for sure its own personal touch. "La p'tite abeille a travaillé fort là-dessus, buz buz buz"!
14. Breakout [FOO FIGHTERS]
Just the same recipe as Monkey Wrench, but that's cool with me because Monkey Wrench have always been my favorite from the band! Finally some real Foo Fighters (as opposed to Learn to Fly and Next Year which were also used as singles for There is Nothing Left to Lose).
15. The Real Slim Shaddy [EMINEM]
I can't believe that I have a rap song in my favorite ones of the year, but Eminem is like the Beastie Boys; he understood that rap or not, lyrics in foreground or not, what he is doing is music, not only talking (most of the time with ridiculous lyrics) with one or two music instruments hidden in background. I probably don't know anybody who didn't liked at least a little bit The Real Slim Shaddy and it is because it's a rap that is musical musical and a talented rapper who reminds us that not only blacks know how to rap.
16. Otherside [RED HOT CHILI PEPPERS]
One that I would have ranked very high at the beginning of the year but which fell off a little bit, simply because it played at least 3 times a day at each and every radio station; it's the kind of song we could easily hear on one station, retune to another channel and end up on the same song. A bit tiring, but it's still been a very good song to consume, though.
17. Le Spaghetti à Papa [MARA TREMBLAY]


Believe it or not, an instructive song! At least, for a perfect ignorant in cooking as I am! Very energetic, and it made me change my mind about her (Le Teint de Linda made me think she was a kind of vedgy and on dope!).
18. Fiction (Dreams in Digital) [ORGY]
Orgy reaches the top of his art with this one. I have not been so much a fan of their first record, but Fiction is a composition to take seriously; it's rich, well developped and perfectly exploits their own style which combines both alternative rock of the '90s with the one of the '80s. I think that I had already been an Orgy before, this song would surely have made my top 10.
19. La Chambre [JEAN LELOUP]


Leloup rides again! Very good song, both lyrics and music. A song that stands very well into Les Fourmis, an absolutely outstanding album.
20. Awake [GODSMACK]
Solid. I mean, tough and agressive but not necessarly violent. Not so studied music, but I like that very much. The 3rd Godsmack song to make my personal top 20 in 2 years (see Voodoo above and Whatever last year)...
21. Stupify [DISTURBED]
Yes, yet another band in the likes of Korn, but this song is very good! The singer sometimes reminds Jonathan Davis from Korn, but for one of the rare times, I find that the apprentice beats the master.
22. Judith [A PERFECT CIRCLE]
Music with an impenetrable atmosphere which requires to be listened to quite a few times, but at the end we appreciate it very much, helped by the exceptional vocal performance from James Maynard Keenan, also singer for Tool.
23. Last Resort [PAPA ROACH]
A song that took some time to get popular in Quebec, so much that when it reached #1 at the radio station COOL FM, I already wasn't in the beat! Though, I still like it very much, and it is, no doubt, a great song.
24. Make me Bad [KORN]
Not as great and successful as Falling Away From Me released last year, but still another good move from Korn, of which album Issues rose my respect for them in the past year.
25. Testify [RAGE AGAINST THE MACHINE]
Not original at all, this song, much alike most of the songs from this band, entered my head near the end of the year and has much "punch"!
26. Thief [OUR LADY PEACE]


Not the most easily accessible from this now legendary band in its country (Canada), but after listening to it a few times, it becomes an essential. Close in style to 4 a.m., but even better.
27. Marcel Galarneau [LES COWBOYS FRINGANTS]


Half-parody, hidden humour, insignificant but appealing lyrics and a rousing rythm, here are the components of this song of which I knew all the lyrics after listening to it only 3 times.
28. Light Years [PEARL JAM]
Another underestimated song for Pearl Jam this year. It was a Last Kiss 2, made for commercial radios, but I don't understand why, the radio stations didn't play it and it's been a total commercial fail. However a great song.
29. Le Gars d'la Compagnie [LES COWBOYS FRINGANTS]


Cowboys Fringants' most serious song, Motel Capri and Sur mon Canapé... albums together. Not typical Cowboys song, but still an excellent one; very good lyrics and devilish violon solo at about the 2 thirds of the song.
30. The Bad Touch [BLOODHOUND GANG]
Funny, explicit, and the music is not bad either!
31. Song for the Dumped [BEN FOLDS FIVE]
I didn't like Brick and I don't really like the piano, but Song for the Dumped is very energetic and also has pretty funny lyrics.
32. Take a Look Around [LIMP BIZKIT]
Spectacular just like the movie (Mission Impossible 2) for which it's been recorded. Perfect for the film, it is an interesting remake of an excellent classic, the theme from Mission: Impossible.
33. Sleep now in the Fire [RAGE AGAINST THE MACHINE]
A little bit (not too much either) different of Rage Against the Machine's style, Sleep now in the Fire is one of the best songs of the year.
34. Mixxed Business [BECK]
Well-chosen single from Beck; this one and Sexx Laws were indeed the 2 best of the album Midnite Vultures. Festive atmosphere, yet another great one from Beck.
35. Californication [RED HOT CHILI PEPPERS]
A 3rd excellent single out of 4 for the Californication CD, which is a great album indeed.
36. Pour un Oui, Pour un Non [LOUISE ATTAQUE]
Another efficient festive song with weird lyrics for Louise Attaque. Still my favorite French band.
37. Original Prankster [THE OFFSPRING]
Worrying. It is still some good stuff, but The Offspring loses a little bit at each album since the excellent Smash over 5 years ago. Maybe in 2 or 3 more albums, The Offspring will sound like Britney Spears... At least, for now, Original Prankster is still above the average.
38. Kryptonite [3 DOORS DOWN]
A little bit like Otherside from the Red Hot Chili Peppers, this song just aired too much. Still a good guitar song.
39. Rollin' [LIMP BIZKIT]
Wow! You completely remove the singer Fred Durst from this song, replacing him by almost any other man, you add minimally intelligent lyrics to that and you get an excellent solid-rock song! Only sad that there are so much "if"s...
40. Still not a Player [INCUBUS & BIG PUN]
Certainly not helped by the raps of Big Pun, this song is still another interesting one from Incubus, a 3rd hit in as much singles for them in 2000.
41. Ma Blonde est Tellement... [MARTIN DESCHAMPS]


The only song that I like from Martin Deschamps, it is light but good.
42. Into the Void [NINE INCH NAILS]
A Closer 2, but I like the result anyway.
43. Nothing as it Seems [PEARL JAM]
High-quality old-rock guitar playing, undoubtly some very good stuff, but it is not the Pearl Jam that I know and it is a little bit disorienting; it is always a bit deceiving when and it is always scarying when a band detaches from a style it perfectly masters.
44. Charlotte [KITTIE]


Oh my god!!! I haven't seen that much riot girls since L7, and even there... The all-women band makes some fat noise with something dark and hard that shows that a thick barb and big arms are not required to make very agressive music.
45. Une Bonne Journée [VÉNUS 3]


If the chorus was as good as the verses, it would be one of the best songs of the year in Quebec! Unfortunately, they put the brakes just when they should give all they have, which makes it a #45.
46. Break Stuff [LIMP BIZKIT]
Song for some circumstances. A song almost bad, but on some days we feel it understands us.
47. Falls Apart (Runaway) [SUGAR RAY]
Sweet song from Sugar Ray. Much more representative of the album 14:59 (of which it is taken) than the previous one, Floored, a pretty hardcore album.
48. Broken Home [PAPA ROACH]
Socially-related subject, excellent guitar playing, congratulations again (for a 2nd time) to Papa Roach who's probably the best new American artist of the year.
49. In Repair [OUR LADY PEACE]


By far the less good of Our Lady Peace's first singles for an album, but still a song that enters the head and that we like to sing along with Raine Maida.
50. Stacked Actors [FOO FIGHTERS]
Controversial song since Hole's Courtney Love unjustly felt targeted by this song. A come back to something more solid for the Foo Fighters after the pop incursion of Learn to Fly that was just about to disinterest me of the band.
51. CITÉ Rock Matante [URGEL BOOGIE]


52. Behind Every Good Woman [TRACY BONHAM]
53. Should Have Been Mine [SERIAL JOE]


54. American Psycho [TREBLE CHARGER]


55. Change (In the House of Flies) [THE DEFTONES]
56. Rébarbatives [STEFFIE SHOCK]


57. Porcelain [MOBY]
58. Mr. E's Beautiful Blues [EELS]
59. One Armed Scissor [AT THE DRIVE-IN]
60. La Plume [LOUISE ATTAQUE]
61. Promise [EVE 6]
62. Amalgame [LES RESPECTABLES]


63. Black Jesus [EVERLAST]
64. The Lost Art of Keeping a Secret [QUEENS OF THE STONE AGE]
65. L'une va sans l'autre [VÉNUS 3]


66. Silently Screaming [SERIAL JOE]


67. Adam's Song [BLINK 182]
68. Cash Car Star [THE SMASHING PUMPKINS]
69. Sex & Violence [STONE TEMPLE PILOTS]
70. I Disappear [METALLICA]
71. Permanent Wave [RAMASUTRA]


72. Hola Décadence [LES RESPECTABLES]


73. The Messenger [THE TEA PARTY]


74. Optimistic [RADIOHEAD]
75. Walking Wounded [THE TEA PARTY]


76. Weightless [SEE SPOT RUN]


77. Téléthargique [GROOVY AARDVARK]


78. Pardon Me [INCUBUS]
79. Somebody Someone [KORN]
80. With Arms Wide Open [CREED]
81. Never Gonna Come Back Down [BT & M. DOUGHTY]
82. Born Entertainer [VERUCA SALT]
83. Sparks are Gonna Fly [CATHERINE WHEEL]
84. You Don't Know What it's Like [ECONOLINE CRUSH]


85. Counting the Days [GOLDFINGER]
86. Warning [GREEN DAY]
87. Deviens-tu c'que t'as Voulu? [DANIEL BOUCHER]


88. Butterfly [CRAZY TOWN]
89. South Side [MOBY & GWEN STEFANI]
90. No Way Out [STONE TEMPLE PILOTS]
Finalists:
Renegades of Funk [RAGE AGAINST THE MACHINE]
Eye of the Mourning [THE SMASHING PUMPKINS]
Key:


Canadian artist

Quebecer artist

NOTES: I know I cheated for Amalgame and The Everlasting Gaze which both have been released in December 1999, but I didn't heard them enough in 99 to place them in my top of last year, so I treated them as if they were of year 2000. Also, I don't listen too much of pop music, but I'd like to mention the successful cuts from Wyclef Jean, Vitamin C, 'NSync and Madonna in this field with respectively It Doesn't Matter, Graduation (Friends Forever), It's Gonna be Me and Music.




--------------------------------------------

And while I am in tops, here's the one of the worst songs of 2000, those that make you feel like you should be a singer yourself.
1. Oops!... I Did it Again [BRITNEY SPEARS]
Just pure shit. Completely idiot lyrics that she seems to believe and a mess of a pop music. Even worse, it is absolutely identical to ...Baby One More Time (also from this sexually attractive but so bad "artist").
2. Move Your Body [EIFFEL 65]
Boring and irritating at once, they use exactly the same voice effects than in Blue while both the music and the lyrics are almost as much silly and stupid as they can get. Nothing more than the traditional dance beat may have any small positive effect there.
3. I Think I'm in Love [JESSICA SIMPSON]
Even if she does not beat the queen of her category (Britney Spears), Jessica Simpson is another very good example of very cute young girl for one reason: the effect she has on producers. The video for this song is very interesting heterosexual man on Earth, but on the radio it's is simply a disaster. Fortunately the girl has a little bit of voice, because the music sounds like the cheap pop from Whitney Houston's debuts in the '80s, but without any melody.
4. Thong Song [SISQO]
Thong, tho thong thong thong! Another boring song from a bare-chested black who bases its videos on its abdominals. No, there are not only girls (Britney Spears, Christina Aguilera, Jessica Simpson, Jacynthe, etc...) who can make bad songs and direct people's attention on their body.
5. Holler [SPICE GIRLS]
The Spice Girls are dead, that's it and that's all!
6. They Stood up for Love [LIVE]
I would have never thought saying that of a band who counts dozens of great songs, but they really did a bad fail with this one. Simply not of interest, without any tricks, without even a real melody, without any performance, just boring and nothing more.
7. Gros Zéro [YELO MOLO]
In a way, want to congratulate them; they've hit the critics before they could even hear the song once! It will serve as a protecting shield; if a critic ever say something bad about this song, he will look like a kid who tries to have his vengeance the best he can and the already-conquered fans will like even more their little sly band. In short, congratulations for the idea of the shield song, but me I'm not shy of exposing the fact that those idiotic lyrics with unfounded prejudices which are completely breaking the festive atmosphere they're trying to give to this song.
8. She Bangs [RICKY MARTIN]
The same recipe as Livin' La Vida Loca, except it just did'nt do the job at all! Totally boring, the """cute""" Ricky (I really think that there are hundreds of men more "male" that girls should find cuter than him) won't make me dance on this one!
9. The One [BACKSTREET BOYS]
False alarm, we shouldn't have take I Want it That Way and Show me the Meaning of Being Lonely as their first steps into a newly-acquired maturity. The One is simply of no interest just like Boys Will be Boys has been.
10. Ces Soirées-là [YANNICK]
Yeah, disco night baby! No, really, what a mess! Fortunately, he succeds making me laught at: "Ces soirées-là, tout le monde danse même le D.J.!" (On those nights, everybody dance even the D.J.!) !
11. Et Cetera [GABRIELLE DESTROISMAISONS]
Strangely reminds the first steps of an Alanis Morissette or other teen singers who had to live a first artificial pop, almost retro album for being known in the music industry. The text is easy, too much easy (the words we see there have only been chosen to make some cheap rhymes), and have no other goal than help giving Gabrielle an image that men like (don't we like young and cute girls who think of "nearly indecent things").
12. Lucky [BRITNEY SPEARS]
Yet another poor song, what else left to say?

That I will keep out of this top, but being pretty close:
-Vive le Vent [JACYNTHE]
Question: Did you really listened to 12.25 from Jacynthe at your Christmas parties this year? On the other hand, I'm not too sure if I should blast this song because Quebecer rockers already did a remake of the Christmas classic, but as far as I know, nobody did it in "genuine pop". Probably some kind of originality, I guess.
-He Wasn't Man Enough [TONI BRAXTON]
A song which chorus is "He wasn't man enough for me"... what a shame! Notice ladies that as far as I know, no man ever made a hit singing "She wasn't women enough for me" or "She didn't have enough boobs for me".
-Run to the Water [LIVE]
What a bad year for a band who been, for 2 albums, amongst the best rock acts in the world. This one is an attempt as a Turn my Head 2, but it is tough taking on board with it!
-My Generation [LIMP BIZKIT]
Not a zero musically, but it is very predictable when we know the previous ones from Limp Bizkit, and most of all, it is a song with one and only goal: using the 2 most widely censored words, no matter the context and not even respecting a minimum of relevancy. Furthermore, I cannot accept that one of the most stupid guys on the planet right now, Fred Durst, proclames himself as the emerging leader of my generation.
-American Badass [KID ROCK]
A cover that is not one (like som sort of Puff Daddy's or sometimes Will Smith, Wyclef Jean, etc...), totally impertinent, should not get even the tenth of the interest generated for Bawitdaba. Listen to the original, Sad But True from Metallica, instead of listening to that.
-Man Overboard [BLINK 182]
A tired band who have never been able to put up more than 2 good songs per album, but this time it's bad as from the first single! Total lack of originality, and it doesn't really catch up either.


Powhertz
2000/12/27