Powhertz' Favorites in Music
in

It's with an ever-renewed pleasure that the author and administrator of Powhertz makes the list of the songs he liked the most during the past year, for an 18th straight year. As every year, I remind my readers that the elligible songs are the official singles released throughout the year, and that this chart doesn't aim to portray the songs Powhertz thinks are the best nor even necessarly those he prefers now, but rather those he liked the most during the year.

But before I start, I feel the need for justice to be made. In March, the metal world was shocked by the death of David Brockie, singer of band Gwar since its foundation in 1982. Although social media were flooded by tributes to this man and his prominent Oderus Urungus character, traditional medias did not seem to have a single word on it. Although the cause of his death seemed like a mystery at first, it was established later that it was an overdose of heroin, that devastating drug that also took away Janis Joplin, Jim Morrison, Sid Vicious (Sex Pistols), Bradley Nowell (Sublime) and many other artists. R.I.P. to this Canadian who, at 50 years old, leaved this world too early.

But in all honesty, Powhertz did not know David Brockie before he died, and did not know very well Gwar's body of work. This death, although sad, was therefore not a big shock to me. The loss that really shocked me, probably more than any artist's since the tragic assassination of Dimebag Darrell in 2004, has happened on November 1st but took me at least one month to discover as the medias shamelessly ignored it so badly! At the age of only 48, Wayne Static, the undisputed leader (singer, guitarist, keyboardist, author, composer) of band Static-X, has passed away during his sleep. In his case, drugs would not be in cause. It might be linked to health issues he's had in the past 2 years, but the family doesn't have more details to give on the subject for the moment. Wayne Static was one of the most characteristic faces of rock, with his unbelievable hair that defy gravity, and his long beard dressed as a ponytail. Apart from his unique look, he was the main engine behind album

Wisconsin Death Trip

(1999), certainly amongst the 20 albums that marked me the most in my life. Neither the album nor its singles have ever climbed very high in the charts, but they built a good credibility over the years. The album went platinum (1 million copies sold in the U.S.A.) two years after its release, and its first single,

Push It

, slowly became a classic of industrial metal. Powhertz liked this album so much that he eventually also purchased 3 (

Machine, Beneath... Between... Beyond...

,

Start a War

) of the 6 CDs that followed. Static-X is really part of my music library, and even though the band had announced its separation in 2013, the early departure of Wayne seems to have left a hole. Honor to him and shame to the medias that made excessively bad work in covering this sad event. As a little tribute, Powhertz proposes to you this YouTube playlist with some of the best music videos in Static-X' career.

Wayne Static
1965-2014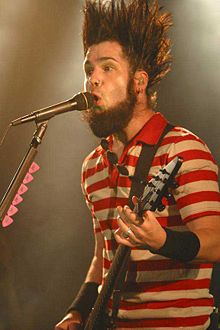 Crédit photo : Brondra, Wikipedia


We are now reaching the moment you were waiting for! As ever, I recommend you to first and foremost consult the article before skipping to the Grooveshark and YouTube playlists. Speaking of playlists, I recommend you more that ever the YouTube playlist, since many songs on the chart are not available on Grooveshark, including the #3, which is kind of a problem!...


Legend

Weak presence of electric guitar(s)

Somewhat heavy, but should be okay for a large majority of listeners
A true heavyweight, sensible ears keep away!

1
The Negative One
Slipknot
Ouch! My first reaction was : "... Are you OK, guys ?". It's the first song the band releases since the death of their bassist Paul Gray (1972-2010) they loved so much, and it looks so dark, so tormented, as if they never really went through this! I was also finding that they were getting back to a sound closer to the first 2 albums', a sound I was finding less mature. And although the drumming is not bad at all, I would have hoped for an epic masterpiece of drums, to show without any possible doubt that the band was keeping a strict excellence commitment for this instrument despite firing its star drummer Joey Jordison. But we end up getting over those first impressions, and we listen to it again, and again... After 4 or 5 spins, I had understood much more things than the 1st time, and I ended up telling myself that this would surely be worth a top 10. After many more spins, I got the evidence that it had the the makings of a #1 candidate... and long before the end of the year, there wasn't any doubt left in my mind that

The Negative One

was the song that had the highest effect on me in 2014. Unlike last year, we have this year a very solid #1 that clearly stands out of its closest competitors.

Last year, I was concluding my paragraph on Scar the Martyr's (new band of Slipknot's drummer)

Blood Host

by saying : Will Slipknot manage to make even better in 2014 with its much-anticipated return on disc? The bar is high, but we'll see!
Well, incredibly, they did it! A second #1 for Slipknot in my annual charts (after

Psychosocial

in 2008) and a 3rd consecutive year in my top 7 for its singer Corey Taylor. The track is also nominated for "best metal performancel" at the Grammys that will take place in February. This title would be fully deserved.

2
Stardust
Gemini Syndrome
The highest entry in my chart by a new band since TTC in 2007! What a beginning!

Stardust

just has everything: powerful, melodious, catchy, a super nice sound... I loved it! Despite its release in December 2013 (ruled elligible for 2014 because it was released at the very end of 2013, and I discovered it in January 2014), I never got bored of it and I'm still listening to it 12 months later.


3

Painkiller
Three Days Grace

Mission successful! Following the somewhat savage departure of its excellent singer Adam Gontier in January 2013 (technically in December 2012, but publicly announced in January 2013), I was skeptical for the next step in Three Days Grace's career. A so good rock singer had to be very hard to replace.

Painkiller

was the first test on disc for their new singer Matt Walst, formerly singer of My Darkest Days and brother of Three Days Grace's bassist... and this test is successfully passed! Of course I still prefer the voice of Gontier, but Walst does a good job in this touching song. Or at least, very touching for me as it was reaching its peak at the same moment that girlfriend was having difficult times at the hospital! The right chorus at the right moment!


I, I can be your painkiller, killer, killer




You'll love me 'til it's all over, over




'Cause I'm the shoulder you cry on




The dose that you die on




I, I can be your painkiller, killer, killer


No, Three Days Grace isn't dead! It is already amonst the greatest bands in history of Canadian rock, and who knows if this new chapter will allow it to go even further...

Note : I for long seriously considered

Painkiller

for my #1 of the year, but my attraction for

Stardust

has been more constant throughout the year (the peak of

Painkiller

in April-May being a little stronger, but

Stardust

seemed to get back over it in the months that followed).


4

High Road
Mastodon
A largely underrated very good track from a band I've been admiring for a while now (since the release of song

Divinations

in 2009), and that I now admire more than ever. Very nice riff that stands out of the ordinary, and a magical long part between 2:30 and 3:30. Only the chorus might be a little weaker, but not enough for it to really be a problem.


5

Dead but Rising
Volbeat
Some pure pleasure! My favorite to date from the Danish band, which means even more than

Still Counting

,

The Hangman's Body Count

and

A Warrior's Call

! Unbelievable that this was only an album's 5th single! Volbeat has really become something serious!


6

Exercice
Les Trois Accords
In the top 3 songs that made me laugh the most from album

J'aime ta Grand-mère

, alongside the title track and

Son Visage était Parfait

. I was really happy that

Exercice

was picked as a radio single, with its funny and catchy chorus : "

J'envie tous les enfants bedonnants qui ne font pas d'exercice, oh ho oh ho oh! Je rêve d'être une seule fois avec toi, sans avoir mal aux cuisses!

" [free translation from Powhertz :

I envy all the fat-belly kids who don't do exercise, oh ho oh ho oh! I dream of being you just one time, without having my thighs hurt

]


7

Villainy Thrives
Trivium
My favorite from Trivium to date! We definitely hear the influence of Disturbed's David Draiman (who participated to the making of this album), and it's not a bad thing for me! The guitars are so boring during the choruses actually, but the vocal side is just so good and catchy that we completely this weakness! The drumming is always very catchy though, even during the choruses.
Note : very disappointing that the record company didn't even condescend to make a video for this hit, 2nd single from the album (after

Strife

at the end of last year)...


8

I'm Glad You're Dead
Bobaflex
I'm a little shy to like so much a song called "

I'm Glad You're Dead

", but musically, that falls right in my tastes! Like Seether, this is halfway between grunge and the kind of modern hard rock that I love. A very well-done and carefully crafted track, with a good sound. If it wasn't of the lyrics, it would certainly be 2 positions higher, and who knows, maybe even more...


9

Depths of Madness
Karkaos
Released at the end of 2013, but I accept it for the 2014 chart. I was unsure of the voice at first, but I got used to it, and finally I love this track from the Montréal-based metal band! Simultaneously very powerful and very melodious, with a great musicians performance! We're not/no longer talking of a garage band here, it's really a wonderful work of pros! This will however be Karkaos' last video with its singer Veronica, who was replaced by a new singer (Viky Boyer) in 2014 for unknown reasons.


10

Sick Like Me
In This Moment
What a solid follow-up for Maria Brink's troup! I really liked that In This Moment had become with its previous album, but I didn't really think that the 1st single of the following album would be even better than their big hit

Blood

! I'm not necessarly saying this a great composition, by the way I heard it played live on the radio and it was pretty bad! But the studio recording of this track is so solid, and the chorus so "enveloping" (

"Even at my ugliest you always say I'm beautiful

"). A very successful return! As a bonus, a very colorful video co-signed by Maria herself!


11

Words as Weapons
Seether
Relatively light (at least, for Seether!), but extremely catchy, as much for the drumming than for the vocals (including the lyrics). A beautiful song!


12
Doc Holliday
Volbeat
Another very solid single from album

Outlaw Gentlemen & Shady Ladies

, faithful to Volbeat's winning recipe: a very sustained rythm guitar, and a second guitar that's very well-used to propel the power even further in some moments or to add another track in some other moments. It's a heck of a rock track! Seriously, a SEVENTH single from the album?!? Almost anybody would have been very happy to have a track of this caliber for its album's FIRST single!


13
Walk with Knowledge Wisely
Crowbar
Solid metal performance from a band apparently active since 1988 (source: Wikipedia), that I discovered only this year with this song! It's already pretty good from the start, but it's starting from 3:25 that Kirk Windstein's band really makes me go crazy! A very toughly disputed #13, paradoxically much closer to the top 10 than the #14.


14
You Will Know my Name
Arch Enemy
I may be the only one to see a little kitsch side to it, but at the end of the day it's just good! A sublime teamwork by the 2 guitarists, a very well-structured track, just a little violins excerpt just at the right moment (all the rest of this little symphony is greatly achieved by the 3 base instruments), a very good result! I would have just liked that the singer vary a bit more her voice and also use her beautiful clean voice rather than simply screaming from the beginning 'til the end, which went close to cost it a few positions in this ranking (but let's be tolerant!). The part of the lyrics that I like the most and that she renders so well : "

There's something inside me and I know it's good, I'm not evil, just misunderstood.

".

By the way, let's talk a little bit about this singer! I did not know the former band of singer Alissa White-Gluz, The Agonist, nor Alissa herself. So, I went from one surprise to another: surprised that Arch Enemy's singer decides to quit, pleasantly surprised that she chose a sexy girl (often named amongst the "hottest chicks in metal" by the Revolver magazine) to replace her, than pleasantly surprised and proud to discover that this Alissa was from here, a Montrealer who achieveher dream to be at the head of one of her favorite bands! Hey, from their native Sweden, it's the little girl from Montréal that they wanted! What a spectacular success! I would have liked to also hear one more album from her with The Agonist, which she wanted to do, but her former band decided otherwise and was quick to replace her after she announced she was hired by Arch Enemy.


15
This Means War
Avenged Sevenfold
A little slow for Avenged Sevenfold, but the guitar riff is so good, and the singer M. Shadows just as great as ever, and that ends up being a great success again!


16
The Motherload
Mastodon
What a performance from the drummer! He's the main singer on this song (the band runs at 3 singers, who all went to take singing lessons before recording this new album!), and he delivers some very energetic drumming at the same time! The guitars are very good in the verses, but relatively weak during choruses; it's really the drumming and singing that lead the way! I also like very much the bassist's contribution for the voice at the end of choruses, tainted of special effects. Actually,

The Motherload

doesn't have much to envy to

High Road

(#4 in this chart) and might have had an even better result if it was released earlier in the year, and/or it has played more often on the radio.


17
Drop Dead Cynical
Amaranthe
Probably disadvantaged by its late release, and it yet manages to crack my 20 without any hesitation! I think we can still call this metal, but it's an accessible form of metal that I would not really be shy to play to my mother! Do I find this "pop" or boring for it? NOT AT ALL! It's a collection of so many things which result sounds big, very big! I also like the richness of this Swedish-Danish band to mix 3 completely different voices in a same song, including the beautiful Elize's who hereby delivers a very nice performance. We'll keep an eye on this band!


18
Take out the Gunman
Chevelle
A very weak riff and a somewhat deceiving composition for the 1st single of a Chevelle album, but Chevelle is so efficient, it makes great things with less! The use of the cow bell in the verses creates an interesting effect, the guitar solo is another good moment, the lyrics make you think, and I love the 2nd guitar that comes in from 3:43. At the end of the day, the whole sounds very good, and the "deceiving" composition is still definitely worth an annual top 20!


19
All Who Remain
Beware the Darkness
A rare soft song in my year-end chart! ;) I like it even better than

Howl

! It is wonderful and touching. It's giving me chills just to think about this line repeated several times during the song: "

When you leave this life the world will be a darker place for all who remain.

".


20

The Devil in I
Slipknot
Slipknot manages (not by much!) to align a 2nd song in my top 20! What a successful return for these metal veterans! This time, the percussion (the drums and particular additional percussions from members #3 and #6, characteristic of Slipknot) are really put very much ahead, erasing my little doubt related to the firing of their star drummer Joey Jordison. The song starts well with a nice intro, at a way too low volume though (it seems to be planned so that we raise the volume, then getting hit hard by the "real" start of the song!). It goes on just as well with melodious guitars and yet another good, enraged vocal performance by Corey Taylor!


22
Courtesy Call
Thousand Foot Krutch

Nice guitar, strings just at the right moment... I just got bored of the vocal aspect and the lyrics (except definitely when it says: "

When it hits it shakes me to the core and makes me stronger than before

") during the year, which allowed a few songs to surpass it at the end of the year... but a #22 of a good year remains nonetheless excellent!

https://www.youtube.com/watch?v=hxqW1Eq0iP4&list=PLY6UBq9eQg7i0Wd0M9VqNsrSBW9M0jL_z&index=22

23
Come With me Now
Kongos

Really great! The accordion truly gives them a unique sound, somwehat like the banjo was making Mumford & Sons sound unique when they came in with

Little Lion Man

in 2009. And it's nothing against

Little Lion Man

(which was, by the way, my #38 of 2010), but I find

Come With me Now

even more worked, more complete, much more interesting. I can only have praise for this song. It should have worth a top 20, but I'm human so I have my weaknesses! ;)

https://www.youtube.com/watch?v=Gz2GVlQkn4Q&list=PLY6UBq9eQg7i0Wd0M9VqNsrSBW9M0jL_z&index=23

24
Bloody Angel
Avatar

I keep preferring

Smells Like a Freakshow

, which was proposing one of the best guitar riffs of the last few years, but

Bloody Angel

really confirmed to me the status of the Swedish band as one of the best metal acts in the world right now. An extremely well assembled track with a long but efficient introduction, a nice development and a perfect arrangement of the beautiful and the hard.

https://www.youtube.com/watch?v=h71NBBbOjmw&index=24&list=PLY6UBq9eQg7i0Wd0M9VqNsrSBW9M0jL_z

26
Darker Side of the Moon
Otherwise

I liked

Soldiers

(mmy #29 of 2012), but none of the other 2 singles off of the album, nor

Full Circle

that also played on Sirius XM radio without being an official single, so my mind was set that Otherwise would probably remain for a "one hit wonder" to me. Error! The new album has brought a new 1st single, and it is just as good as the 1st single (

Soldiers

) from the previous album! A good rock song, and I love the intensity of the "

Looking for a sav, looking for a savior

", with the many voice tracks and the instruments that accompany them well.

https://www.youtube.com/watch?v=CKxAzvJGeyQ&list=PLY6UBq9eQg7i0Wd0M9VqNsrSBW9M0jL_z&index=26

27
Something From Nothing
Foo Fighters

The much anticipated return of Dave Grohl's Foo Fighters, after their absolutely phenomenal success of 2011. The bar was high, extremely high, too high maybe. I was expecting from them my #1 of the year, which did not materialize at all. I did like

Something From Nothing

pretty much, but not enough to look forward to my top 10, result of a somewhat slow start (not really any intensity before 2:45), a main riff that I find relatively ordinary and a precise aspect of the sound that I like less. But still, I will not talk badly about this song! A rare development song (not too much verse-chorus-verse) this year, a nice rise, a strong peak of intensity, interesting lyrics and a good guitarist "trip" with no less than 4 guitars (members Dave, Pat and Chris, plus guest guitarist Rock Nielsen from Cheap Trick).

Something From Nothing

is not a failure, the bar was just too high! A #27, but a very strong #27!

https://www.youtube.com/watch?v=V_YlZ1JdcVk&list=PLY6UBq9eQg7i0Wd0M9VqNsrSBW9M0jL_z&index=27

30

Comme un Seul Homme
Couturier

Genious! I am missing words to describe how good this song is! Very impressive for the very first single of a new artist! Left to see is whether we're assisting to the emergence of a prodigious new artist, or if he already develired it all with first track. In all honesty, I can already say that I did not like the 2nd single,

Mot Croisé

...

https://www.youtube.com/watch?v=QtCxsZNx8pE&index=30&list=PLY6UBq9eQg7i0Wd0M9VqNsrSBW9M0jL_z

31

Classe Moyenne (avec Anchois)
Les Cowboys Fringants

Critic without being depressing or just improper. The opening sentence has some punch ("

J'suis pas l'plus cave, j'suis pas l'plus brillant, j'ai passé mon CÉGEP su'a fesse

") and they even make us laugh later with "

Je chanterai mon blues, les pieds dans' boose... en regardant dans ta blouse!

". The social critic goes on both sides : the State that has a hard time helping a middle class that "gets poorer", and those people not any smarter who go on to buy under credit an always bigger TV! Something to make us think on several fronts! Anyhow, it is clearly my favorite from the Cowboys in 5 years. Good job!

https://www.youtube.com/watch?v=tff0lbnn_jQ&index=31&list=PLY6UBq9eQg7i0Wd0M9VqNsrSBW9M0jL_z

33

1000hp
Godsmack

Far from being my favorite from Godsmack's prolific career, it's an excellent retrospective song that feels good! The whole first verse is really a pleasure :


Time to rewind back to 1995 when we were nothing




Walking through the streets of Boston, no one listening




No one caring about the empty rooms we played




Until they all showed up one day




Then we took the stage, everything changed.



This excerpt is also inspiring :


Seeing millions of people rage when we take the stage



It crowns an extraordinary career, and nothing leads to think it's over yet!

https://www.youtube.com/watch?v=6rL4em-Xv5o&list=PLY6UBq9eQg7i0Wd0M9VqNsrSBW9M0jL_z&index=33

34

Guilty all the Same
Linkin Park feat. Rakim

Linkin Park has finally found back its mojo!!! It's a good thing, because it's in their nu metal style that they're at their best! I really liked

Breaking the Habit

(2004) and even (at a lesser extent)

Shadow of the Day

(2008), but the fact remains that Linkin Park is first and foremost an enraged rock band that is at its best when the voice of Chester Bennington is "angry" and the guitars properly support the electronic side (not the opposite).

Burn it Down

(2012) had been such a deception; the band was telling us to prepare for a back to their roots, and they came up with this terrible first single pop, boring and not a single bit original! They did not repeat the same mistake this time and really got their job done with the first single from their new album

The Hunting Party

,

Guilty all the Same

.

https://www.youtube.com/watch?v=IfnhGW2Q_y0&index=34&list=PLY6UBq9eQg7i0Wd0M9VqNsrSBW9M0jL_z

35

Hater
Korn

In my chart for last year, I was expressing my surprise to write in a Korn track with just a single guitar in my electric guitar scale. Well, the loud Korn of the '90s and 1st decade of the 2000s is really dead, because they did it again in 2014 with another song with a single guitar ("weak presence of electric guitar(s)") !

Hater

, unlike what its title may have us think, has absolutely no teeth. However, its relevant lyrics (under the theme of bullying) and its catchy chorus are still making it one of the best songs of the year. The video is also different from what Korn got us used to, but it's very good nonetheless. It actually has some similarities with the video for Slipknot's

The Devil in I

.

https://www.youtube.com/watch?v=0K67veEPOYM&list=PLY6UBq9eQg7i0Wd0M9VqNsrSBW9M0jL_z&index=35
39

This is the Time (Ballast)
Nothing More

What a hit for a new band! I've always seen this track a little bit like a pop song disguised into a hard rock track, which was not preventing my from considering it for a top 20 earlier this year, but finally the too hot competition has ended up pushing it to the limit of the top 40. But let's make it clear, it's too great for a #39! This proves the abundance of very good songs this year!

https://www.youtube.com/watch?v=Yo5fE-Zl-V4&index=39&list=PLY6UBq9eQg7i0Wd0M9VqNsrSBW9M0jL_z

43

Rebellion
Linkin Park feat. Daron Malakian

What a good idea to invite Daron (guitarist of cult band System of a Down)! We easily recognize Daron's guitar in this song, and the result might be the closest thing to a SOAD song since the band's separation (more than

Figure it Out

of Serj Tankian? What do you think?).

https://www.youtube.com/watch?v=OCy5461BtTg&list=PLY6UBq9eQg7i0Wd0M9VqNsrSBW9M0jL_z&index=43

54

Deep Six
Marilyn Manson

Arrived in mid-December, it is certainly a little disadvantaged in this chart. But the true question is why not having released it as the album's 1st single?!? Isn't it obvious that

Deep Six

is better than

Third Day of a Seven Day Binge

? No? On top of that, they produced a music video for this one and not for the first one, isn't it a proof they knew that

Deep Six

would be a better seller? Oh well...

https://www.youtube.com/watch?v=w5LZ8YErl2M&index=54&list=PLY6UBq9eQg7i0Wd0M9VqNsrSBW9M0jL_z

55

Eat You Alive
Emigrate feat. Frank Dellé

New album for the 2nd band of Richard Zven Kruspe, best known for his role of Rammstein's lead guitarist. Its first single

Eat You Alive

isn't very original and obviously doesn't have as much personality as some Rammstein, but the melody is catchy and Richard does a pretty good job with his voice, for someone for whom it's not supposed to be his specialty, and for whom English is not the primary language (he's German). This 1st single is very successful, and its 700,000 views on YouTube are a demonstration of people's interest for this 2nd band of Kruspe.

https://www.youtube.com/watch?v=npwM8-j8_T0&index=55&list=PLY6UBq9eQg7i0Wd0M9VqNsrSBW9M0jL_z

56

An Island
Chevelle

Lacks of melody, definitely among Chevelle's worst singles of the past few years, but they've become so efficient that they don't even need to have a big catchy melody no more to make a hit! It sounds very well! I particularly enjoy the part at 3:35 where they come back with "

Force you to go

" and bang!, they unload everything they have!

https://www.youtube.com/watch?v=tF6SiL1vhu8&index=56&list=PLY6UBq9eQg7i0Wd0M9VqNsrSBW9M0jL_z

57

Pathfinder
Fleshgod Apocalypse

Inferior to

Elegy

, the song that made me discover this Italian extreme metal band and occupied my #37 last year, but that's still in the same pretty unique genre of high quality. I found it not very catchy, I was never having this song stuck in my head this year, but I was always happy to listen to it.

https://www.youtube.com/watch?v=cAyR_wS1kxY&list=PLY6UBq9eQg7i0Wd0M9VqNsrSBW9M0jL_z&index=57

59

Sangre por Sangre (Blood for Blood)
HellYeah

For those who would not know HellYeah, it is basically a metal band uniting Chad Gray (Mudvayne singer) and Vinnie Paul (drummer of legendary metal band Pantera). They came back with a new album this year, and although I found this first single somewhat "dumb", it stuck in my head and I did like it! Obviously, it is mandatory to like Gray's very characteristic voice, which must be playing on the nerves of many, but me I have absolutely no problem with that.

https://www.youtube.com/watch?v=keZ-GsRRVlQ&index=59&list=PLY6UBq9eQg7i0Wd0M9VqNsrSBW9M0jL_z

60

Cry
The Used

I did not really like it at first. We must say that except for the short invigorating segment starting at 2:22, they seem to have kind of lost their virility! But again, a catchy melody that get stuck in our head, and I find myself at the end of the year wondering where to rank this one... and it looks like the answer would be the #60! Note : for those who would not know The Used, they are 12-13 years veterans whose best song in career remains, according to me,

The Bird and the Worm

, my #10 of 2007.

https://www.youtube.com/watch?v=CE2CAvJZiiM&list=PLY6UBq9eQg7i0Wd0M9VqNsrSBW9M0jL_z&index=60

64

I am Machine
Three Days Grace

Sans être aussi convaincant que

Painkiller

, ce 2e extrait prouve une fois de plus que Three Days Grace est loin d'être "fini" (après le départ du chanteur vedette Adam Gontier). Les paroles sont intéressantes, j'aime beaucoup le petit bout avant les refrains, le refrain lui-même d'ailleurs devient accrocheur après quelque temps, et j'aime beaucoup certains effets sonores créés à partir de la guitare.

https://www.youtube.com/watch?v=8Zx6RXGNISk&index=64&list=PLY6UBq9eQg7i0Wd0M9VqNsrSBW9M0jL_z

65

Hail the Apocalypse
Avatar

Très (trop) criard et peu mélodieux, mais puissant et encore du bon métal. Aussi morbide qu'elle puisse paraître au premier abord, la phrase "

All flesh is equal when burnt

" dans les refrains est lourde de sens et honnêtement très intéressante.

https://www.youtube.com/watch?v=zKe8jze56Vg&index=65&list=PLY6UBq9eQg7i0Wd0M9VqNsrSBW9M0jL_z

69

Symmetry in White
Crowbar

"

Spiritual holocaust

" ! Très intéressante citation venant de ces gars qui se disent ouvertement croyants en Dieu, mais "ne croient pas à l'hypocrisie de la religion organisée".

https://www.youtube.com/watch?v=PwnpAM-FE3g&index=69&list=PLY6UBq9eQg7i0Wd0M9VqNsrSBW9M0jL_z

72

No More Regrets
Arch Enemy

J'ai nettement préféré

You Will Know my Name

, mais je suis forcé d'admettre que

No More Regrets

est très puissante et devient relativement accrocheuse à la longue! Encore une fois, j'aurais clairement préféré une voix mieux dosée avec un peu de la belle voix "propre" d'Alissa et non seulement des cris du début à la fin, mais bon, il faut passer par-dessus ça en bout de ligne et apprécier ce qu'on a!

https://www.youtube.com/watch?v=tc-p93x5rPQ&index=72&list=PLY6UBq9eQg7i0Wd0M9VqNsrSBW9M0jL_z

74

Mechanical
Moist

Un retour de Moist!! Je n'avais pas vu venir celle-là! Ce groupe phare du rock canadien des années '90, avec ses classiques albums

Silver

et

Creature

, s'était séparé en 2001 mais voilà qu'il renaît 15 ans après la parution de son dernier album solo! Trois des cinq membres originaux (dont le chanteur David Usher et le guitariste Mark Makoway, les deux plus importants pour le son de Moist!) sont de retour, et la nouvelle chanson

Mechanical

cadre bien avec le son du groupe chouchou des Canadiens. C'est sûr qu'ils ont fait encore mieux dans les années '90, mais c'est quand même très respectable.

https://www.youtube.com/watch?v=cHJJo4q0BqY&index=74&list=PLY6UBq9eQg7i0Wd0M9VqNsrSBW9M0jL_z

79

Zombie
We as Human feat. John Cooper

Je ne comprends pas n'avoir jamais entendu ça à la radio! C'est Wikipedia qui m'avait appris que c'était sorti comme extrait de l'album!... En tout cas, c'est une assez bonne pièce (définitivement moins que

Bring to Life

), et j'apprécie la contribution de John Cooper (chanteur de Skillet), l'homme à qui on doit la découverte de We as Human.

https://www.youtube.com/watch?v=LhTbCr7Z0FA&list=PLY6UBq9eQg7i0Wd0M9VqNsrSBW9M0jL_z&index=79

80

You Can't Stop me
Suicide Silence

Particulièrement violent et criard, pas très mélodieux, mais je pense vraiment que c'est très bon dans son genre. Le nouveau chanteur relève admirablement bien le défi de remplacer Mitch Lucker (décédé dans un accident de moto en 2012), les musiciens font bien leur travail, même les paroles ont leurs bons passages, mon préféré étant : "

Speak up, sing this with me : WE'RE ALL F*CKING FREE!

".

https://www.youtube.com/watch?v=3ehCh4WNivQ&index=80&list=PLY6UBq9eQg7i0Wd0M9VqNsrSBW9M0jL_z

85

Follow me Down
The Pretty Reckless

Clairement celle que j'ai préféré parmi les 3 extraits radio sortis par ce nouveau groupe en 2014. D'ailleurs, ne vous surprenez pas de ne pas voir

Heaven Knows

, un des grands succès rock de l'année, dans mon décompte personnel! Je ne l'ai pas aimée du tout!

Follow me Down

par contre a beaucoup de chien. Encore une autre qui est peut-être désavantagée par sa sortie tardive dans l'année.

https://www.youtube.com/watch?v=vfwJ-SoYw4U&list=PLY6UBq9eQg7i0Wd0M9VqNsrSBW9M0jL_z&index=85

86

The Way Around is Through
Live

Vous avez bien lu, Live! On n'en entendait tellement plus parler, je pensais comme vous que le groupe n'existait plus! Eh bien, Wikipedia a réponse à (presque) tout! ;) En fait, ils avaient sorti un album en 2006, mais cet album avait été largement ignoré, donc ça faisait 11 ans depuis leur dernier album minimalement populaire et 17 ans depuis leur dernier BON album,

Secret Samadhi

(qui contenait les succès

Lakini's Juice

,

Freaks

et

Turn my Head

). Normal qu'on ne pensait plus à eux! Mais ce n'est pas tout : leur chanteur vedette, Ed Kowalczyk, avait discrètement quitté le groupe en 2009, pendant ce qui devait être une pause de 2 ans pour le groupe. Il a été remplacé en 2012 par un nouveau chanteur, Chris Shinn, et

The Way Around is Through

est la 1ere chanson issue de cette nouvelle union. Rien d'exceptionnel, mais ce n'est définitivement pas mauvais! La voix de Shinn surprend tellement elle est comparable à celle de Kowalczyk, pourtant un très bon chanteur qui aurait dû être plus difficile que ça à remplacer! C'est juste vraiment dommage pour eux que la chanson aie aussi peu attiré l'attention du public, avec à peine plus de 50 000 vues sur YouTube et rien de mieux qu'un #30 au palmarès "Mainstream rock" (pas Rock au complet, là!) du Billboard américain. Les gens boudent-ils le départ d'Ed?

https://www.youtube.com/watch?v=-9aPRQdidO4&index=86&list=PLY6UBq9eQg7i0Wd0M9VqNsrSBW9M0jL_z


Not considered :

Du Hast

, de Motionless in White. Extrait de la compilation Punk Goes 90s Vol. 2 (et non de l'album de Motionless in White), j'ai trouvé que cette reprise n'apportait rien par rapport à l'originale de Rammstein. Je l'écouterais si elle jouait à la radio, mais jamais je n'irais volontairement écouter celle-ci plutôt qu'écouter l'originale.

Vultures Fly

, d'Avatar. C'est clairement une pièce de top 15 (je dirais probablement même autour d'un #4!), mais il y a eu beaucoup de confusion autour de son statut. En septembre, Avatar avait laissé entendre que

Vultures Fly

allait devenir le 3e extrait de l'album

Hail the Apocalypse

en novembre. Rendu en novembre, la radio satellite Sirius XM a effectivement commencé à la jouer, mais aucune mention NULLE PART (site Web d'Avatar, Facebook d'Avatar, communiqué de presse, Wikipedia, pas même un article indépendant trouvable sur Google!) que c'était effectivement devenu un extrait officiel. Finalement, après ce silence de plusieurs mois, le groupe lance enfin le vidéoclip de la chanson sur YouTube en janvier, au moment où Sirius XM a pratiquement fini de jouer la chanson!... Pour le présent exercice, je considérerai

Vultures Fly

comme un extrait paru en 2015 et non en 2014.
The regrets' corner

Like every year, there are a few songs that Powhertz discovered and loved during the year, but are not elligible for the current chart because they were released before 2014. Those in

bold

in the below list are big ones that would have ranked high this year if they were elligible:

Omniprésent [Damien Robitaille] 2013

Bitch Came Back [Theory of a Deadman] 2011

Before I Forget [Slipknot] 2005

(I heard this song before 2014, maybe twice, but never realized how awesome it was!)

Jumpdafuckup [Soulfly feat. Corey Taylor] 2000

Fucking an Animal [GWAR] 1999

Snap your Fingers Snap your Neck [Prong] 1994 !


Sick of you [GWAR] 1990 !



Top Sucks !
And in respect of the tradition, we end up with a top of the worst songs of the year! And the competition is so strong this year!! I took note of 6 of a very similar level, very hard to rank between them! Some tough choices, but here we go!


1. [Nicki Minaj] Anaconda
Ils ont fait un vidéoclip et oublié d'écrire une chanson pour aller avec! Alors Nicki Minaj, toujours aussi brillante, s'est débrouillée comme elle pouvait en parlant le plus vulgairement possible de ses grosses fesses et de son mépris pour les "skinny bitches", toujours avec sa voix de canard désagréable! Non mais sérieusement,

Anaconda

est d'une médiocrité abrutissante! C'est celle que je choisis comme la pire des pires en 2014.





2. [Jennifer Lopez feat. Iggy Azalea] Booty
Pourquoi ne pas rester dans le domaine des fesses! Incroyable mais vrai, 2 gros hits portant vulgairement sur les fesses cette année, et honnêtement l'un est aussi médiocre que l'autre! Heureusement que le vidéoclip a un certain intérêt!!
https://www.youtube.com/watch?v=nxtIRArhVD4


3. [PSY feat. Snoop Dogg] Hangover
PSY savait qu'il aurait été préférable qu'il se retire après

Gangnam Style

, mais il voulait essayer de continuer et il a minimisé les risques en s'associant à un chanteur "crédible"... et le résultat est épouvantable!
https://www.youtube.com/watch?v=HkMNOlYcpHg


4. [Mika] Boum Boum Boum
Décidément, le sexe est omniprésent dans la pop cette année, et ce même dans la pop soit-disant "adulte"! Le thème me rappelle beaucoup

Boom, Boom, Boom, Boom!!

des Vengaboys, rien d'original en passant!
https://www.youtube.com/watch?v=_MPtXUeUznY


5. [G.I. Joe] Sexy Body
-et-
[G.I. Joe feat. Diamondz] Tellement Famous 3

Oh oui, la risée du Québec poursuit sur sa lancée, et il y implique sa nouvelle conjointe, Diamondz! Incroyable mais vrai, il est rendu à plus de 300 vidéos sur YouTube en 3 ans, productif comme Normand L'Amour! Ces 2 vidéos sont à voir, peu importe la raison!
https://www.youtube.com/watch?v=VjCW74yHK4M
https://www.youtube.com/watch?v=E8zrYiZYKGk


Mention spéciale également pour

Torn to Pieces

du groupe américain Pop Evil. J'aime bien ce groupe pourtant, mais j'ai été incapable de supporter

Torn to Pieces

! Pas seulement parce que c'est une ballade ultra quétaine, mais aussi à cause des grincements qui me faisaient toujours demander s'il y avait un problème mécanique dans ma voiture!!! Je changeais de poste de radio à chaque fois, je n'aimais vraiment pas ça!!


May 2015 be a great year everybody!



Powhertz


2015/03/06

Rankings finished on 2015/01/22, article completed on 2015/03/06

Back to Powhertz' main page