Powhertz' favorites in music in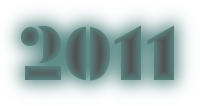 The year 2011 is now behind us. Without being an exceptional year, it was clearly superior to 2010 on the music aspect, with a very solid top 10 and also much more (in quantity) good songs. It is therefore a great pleasure for the author and administrator of Powhertz to deliver for you the 15th edition of the chart of official radio singles

released in 2011

that marked me the most during the year. Once again, it is not a chart of the most popular songs, not even necessarly those that I consider to be the best, and not even necessarly my favorites at the time of writing these lines. The purpose of this exercise is to rank songs in order of those that marked me the most throughout the whole year.

This year, the colors of this page pay homage to the best new artist of the year, ahead of The Black Keys, The Joy Formidable and Galaxie, it's American band AWOLNATION. With their very own style of electronic rock, the small independent band surprised the music industry when it outperformed lots of artists from the major record companies, with their memorable first single

Sail

. That track has even made its way to the 20th position of the Billboard Hot Rock Songs of 2011, beating the best song of the year from artists as major as Coldplay (#23 for

Every Teardrop is a Waterfall

), Muse (#32 for

Undisclosed Desires

) and Disturbed (#33 for

The Animal

)! The follow-up single from their

Megalithic Symphony

record, entitled

Not Your Fault

, was less popular but just as good quality, elevating the band to a status of established band whose upcoming songs will definitely generate expectations. Scenario very similar to Cage the Elephant 2 years ago... Will AWOLNATION be able to avoid the trap of CTE, who pursued by aligning many songs of average to good quality but without ever getting closed to repeat the marvelous accomplishment of the first two radio singles that made their reputation?...

Without any more wait, here's the chart! Powhertz strongly recommends you to consult the below article first and watch the videos you will find here, but for future listenings, know that there is also a Grooveshark list for this chart, with almost all songs (only missing the rare ones that are totally absent from Grooveshark).



Guitar legend
Weak presence of electric guitar




Somewhat heavy, but should be OK for
a large majority of listeners





| | |
| --- | --- |
| | Truly heavy, sensible ears keep away! |
1




Country Song

Seether

I well remember the first time I heard it on the radio. Without knowing that it was Seether, I immediately saw the potential of this song, with its surprising mix of somewhat "country" riffs and solid rock, combined with a solid voice. I loved it from the first time I heard it, and I kept on listening to it the whole rest of the year as a track that could be my annual #1. That is now done!

Note that it is the 3rd time in the past 10 years that Seether propels a song to my top 3, after

Fine Again

in 2003 and

Fake it

in 2007. It is currently the only artist who can boast that achievement, the only other two to have made it twice being System of a Down (

Question!

in 2005 and

Lonely Day

in 2006) and Alice in Chains (

Check my Brain

and

A Looking in View

, both in 2009).




Warning: positions #2 to #6 have been EXTREMELY hard to classify, probably the toughest classification challenge in my life!! I went with my feeling, but only after weeks of

shilly-shallying

! They are therefore swappable up to a certain point.


2




Face to the Floor

Chevelle

The Chicago-based band starts having such a successful career in the post-grunge. They would now have enough hits to release an album of their greatest hits. This one,

Face to the Floor

, is possibly their best, more or less equally with

Jars

and ahead of

The Red

. It is nothing genius, neither at the musical level and even less for the texts, but we jump into this rousing track right at the first note, and the intensity inside me remains practically constant until the end! Perfect equilibrium between guitar and bass (although a bit more powered by the distortioned bass than by the guitar) for an extremely round sound, that catched me up from the first time I heard it.



3




Not Again

Staind

Really impressed! Staind has gained a lot of maturity at various levels, the most striking for me being the voice of singer Aaron Lewis. I was also conquered by some little gems in the lyrics, mainly "

Denial isn't the way to forgiveness

" and "

What an intricate web you're weaving, again and again.

". Certainly the best song of their whole career. No, we definitely don't want to go back to the times of

It's Been a While

!



4




Rope

Foo Fighters

Without a doubt, the rock song by excellence of 2011. Confortable at the #1 of the Billboard Hot Rock Songs of 2011, and I would be the first to admit that it is technically superior to the previous three tracks in my personal chart. In fact, it was my #2 until a last-minute change, telling myself that I probably had

a little bit

deeper pleasure with

Face to the Floor

and

Not Again

even though I find

Rope

superior. What a solid rock track! The play of the 3 guitars (plus the bass), Taylor Hawkins' full of variations drumming, the stereo effects, the play with voice tracks (in my humble opinion, at least 2 voice tracks of Dave + 1 voice track of Taylor Hawkins), etc. Congratulations, again and again! Dave Grohl, you are re-becoming my idol!...



5




The Ballad of Mona Lisa

Panic! At the Disco

What a return for Panic! At the Disco! Wow! A song that is remarkably well-built from one end to the other, practically flawless. Without the shadow of a doubt the best in this band's career to date. Oh yes,

The Only Difference Between Matyrdom and Suicide is Press Coverage

and

I Write Sings Not Tragedies

were excellent alternative rock songs, but they were not contenders for the #1 of the year as

The Ballad of Mona Lisa

...




6




Up All Night

Blink 182

Thumbs up for a defunct band that reunites to test a new sound and not to come back with auto-plagiarism just for money (hello AC/DC!) ! Blink goes completely out of its cumfortable pop punk, and the result is extremely positive! Very surprising guitar riff for some Blink 182, wise use of the two voices (has Tom finally understood that he cannot do everything alone and that he badly needs Mark'e voice?), varied and surprising drum beats, etc. It would have just needed a melody for the guitar in the verses, it is its main downside that makes it rank only 6th, which nonetheless remains an excellent place to be in such a good year as 2011.




7




On Va S'Aimer Encore

Vincent Vallières

Slight infringement to the rules: this one was initially released in November 2010, but discovered by Powhertz around early January 2011, and the song was still on the charts in the summer of 2011! By far, very far, the French-language song of the year. The ultimate achievement for this Montreal artist, who had been his thing for over 10 years, collecting several small hits, but never "THE song". It is now mission accomplished! Average music, let's admit it, but the touching lyrics and performance like so few did in music history! For me, it is still a clear level under Ginette Reno's

L'Essentiel

, but a

major

level above 99% of other songs of that category! It was my vote the for award for song of the year de l'année at the Gala de l'ADISQ, and I'm very proud that Vincent won it. Fully deserved award!

Note: it is only the 2nd appearance ever of Vallières in my yearly chart, after

Ti-Guy qui s'détruit

in 1999, although

Je Pars à Pied

has once been my #60 of 2006 before getting expelled of the top 60 one week later because of another song that had been forgotten.




8




Not Your Fault

AWOLNATION

For a second single from a debut major album, it is huge! What a nice, well-built track, constant from the beginning until the end! I found it even better than

Sail

, which is not a small thing! And as it wasn't enough, it is the nicest music video of the year according to me. To be watched absolutely!


9




The Adventures of Rain Dance Maggie

Red Hot Chili Peppers

Once again, Flea has found the most catchy bass melody, which would be sufficient to support the track alone, but that's actually not all! There is also a very catchy guitar melody in the choruses! One of the songs I had the most often in my head in 2011.



10




Sail

AWOLNATION

Strong debut for the new American band! A well-built song, a well-polished sound, a good finale... This one too, is one of the songs I had the most often in my head in 2011.



11




Sunset in July

311

Not the best in the Nebraska-based band's long career, but another good rock song that adds to their long list and that got stuck in my head all summer long! Very summery despite the sometimes a little loudy guitars.



12




Mein Land

Rammstein

Not very original, respecting the sound of the

Liebe ist für alle da

album and even more

Rosenrot

's (in particular songs

Te Quiero Puta!

and

Zerstören

), but it's still very good. The brass help a lot to up the track's level.




13



Irresistible Force

Jane's Addiction

Simply beautiful, with its choirs and its greatful sonority like a symphony orchestra. They must have worked hard to reach to that sound. With such a sound accessible to all, I don't understand that

Irresistible Force

was not one of the greatest hits of the year, all kinds of music together.




14



Panic

Sublime With Rome

Certainly the most rousing song in Sublime's nice career! In a weaker year like last year, it would have made the top 10.




15



Make Some Noise

Beastie Boys

I don't like the boastful lyrics and even less the rebel video, but it remains nonetheless the best rap song in years!! We just lost the habit of rap with true music included! ;) We must admit, the presence of the legendary Beastie Boys in the market remains essential in 2011.



16



Rabiosa

Shakira & Pitbull

Very successful blend of latino and dance music, this very sexy song is one more success in the Columbian singer's career! The same caliber as last years'

Waka Waka

.




17




Count me In

311

Another catchy song from 311! I really like the choruses' lyrics, as simple as they are: "

Count me in, I've made a decision. Count me in, if you're in I'm in. I know what you're thinking, you know I'm with you. Count me in, if you do I do

".

Unfortunately, there doesn't seem to be any video for this song.

18




The Sound of Winter

Bush

Surprise, a comeback of Bush!!! Gavin Rossdale's band is obviously no longer exactly the grunge band it used to be, but it still able to lay some very good songs into its new sound. A somewhat banal song at first sight, that progressively becomes very catchy with time.



19




Whirring

The Joy Formidable

New band from the United Kingdom, inoffensive at first, but we end up finding a nice intensity there. Sometimes compared to The Smashing Pumpkins, the band has very varied influences, that are not easy to detect in their music. Anyway,

Whirring

, which was looking to simple at first, has ended up pleasing me a whole lot after all. But warning! Very important to listen to the full version as on the

The Big Roar

album or in the video, with its long jam at the end, which is my favorite part of the track! The song playing on the radio is too restrictive.




20




Tonight

Seether

Reminding

Rise Above This

, a single from the previous album, but in much better in my opinio. I just find sad that the lyrics, that start so well ("

I'm not gonna waste this, this opportunity's mine. I'm sick of complaining about a beautiful life. [...] I feel so alive tonight. You got me feeling sublime. I want to yell it from the rooftops down.

"), end up badly at the end of the chorus with a "

Until it's over, and we're older

"... Whatever, it is not a truly great song, but I like it.



21




Lost in You

Three Days Grace

Nice song, but I don't really have any comments to write on it.

No video...

22




Y'a Personne sur Twitter

Gab Roy

Humor song or legit song? In theory, humor songs are not admitted in this chart... I think it is acceptable as a "true" song. And it does so much good to hear that!!! In the meantime that the Twitter fashion ends, let's rejoice together of this nice acoustic song! :-)

http://www.youtube.com/watch?v=GzJsYnTaUFk

23




So Far Away

Avenged Sevenfold

A bit "old-fashioned" and predictable, but I must admit that I often had it in my head anyway. It probably just played too much on the radiom but regardless, I grant it the position it deserved.

http://youtu.be/A7ry4cx6HfY

24




The Cave

Mumford & Sons

Faithful to the style that made us discover this fascinating new band last year with

Little Lion Man

, this new song

The Cave

brings a lot more emotion. A nice song.

http://youtu.be/3KkUeRPjc-Y

25




Around my Head

Cage the Elephant

Far from their best ones, but it's still interesting.

26




Monarchy of Roses

Red Hot Chili Peppers

More "trash" than the average RHCP, probably not for everybody, but personnally I had no problem with that.

http://youtu.be/qOgFHMEJMeY
27




Lonely Boy

The Black Keys

To date, my favorite from this new band that strongly occupied the charts in 2011.

http://youtu.be/a_426RiwST8

28




What You Want

Evanescence

Obvious lack of inspiration! Not only a lack of originality, a lack of... inspiration. I particularly hate the beginning of the choruses, with the "

Hello hello, remember me? I'm everything you can't control

" and I at least hope she is not again referring to her ex-boyfriend Shaun Morgan (Seether singer), because at some point, let go, girl!! I also found that the symphony orchestra was badly integrated, coming from nowhere late in the song with a weak melody. But then, if everything is so negative, what does that song makes at my #28 of the year?!? Well, it's necessarly because there is a little positive too! I like the verses, and as ever, Amy Lee's precious voice.

http://youtu.be/wVWazHTunSI

29




Mustache Man (Wasted)

Cake

Very late release that possibly has cost it a few spots in this chart, but anyway, it's a good one for Cake, which continues to align good songs under its unique style.

There doesn't seem to be an official video for this song, so here's a live performance on Google's campus: http://youtu.be/4VlXMu2b7Fk

30




Camouflar

Galaxie

Galaxie is probably the best new artist of the year in Québec. In this track, I honestly don't like the lyrics, but I really like the music. The video is interesting as well.

http://youtu.be/aJnUqXTfcBs

31




Under and Over it

Five Finger Death Punch

Very loud! Reminds me Slipknot a lot, with a touch of Mudvayne. Not very original, but it's without compromises, and I appreciate it!

http://youtu.be/ZLk75fFXqH4

32




Tighten Up

The Black Keys

A song I first discovered in a beer ad, and then re-discovered on the radio! A little light, but nice sonorities.

http://youtu.be/mpaPBCBjSVc

34



These Days

Foo Fighters

This third single from the

Wasting Light

album does well. Obviously way inferior to

Rope

(1st single), but I appreciated it a lot better than

Walk

(2nd single), which was somewhat reminding me their shameful

Learn to Fly

. Nice lyrics. Another song that may have been a little disadvantaged by its very late release in the year.

There doesn't seem to be an official video, but the following video in concert is very interesting, with Nirvana's Krist Novoselic on the accordion! http://youtu.be/diz2OdFrNhg

36




Warrior

Disturbed

Inferior to Disturbed's average, but it's still some typical Disturbed, hence automatically not completely negligible neither.

38



Paris-Montréal

Les Cowboys Fringants



40




Buried Alive

Avenged Sevenfold

Song heard only once at the very end of 2011, that will certainly continue to gain value in 2012.

http://youtu.be/6PRfDJQY_Y8

42




Gold Cobra

Limp Bizkit

A comeback from Limp Bizkit?!? Who would have guessed that? They've been criticized a lot, but honestly, isn't

Gold Cobra

of a very similar level to Limp Bizkit's old hits? No, it is not the best in their career, but it's at a pretty similar level. I am not shy of granting it a place at my #42.

http://youtu.be/_i_qxQztHRI

43


Crystalline

Björk

Deceiving overall, but I enjoy very much the hyperactive part that comes out from nowhere at 3:00, a surprise explosion!

http://youtu.be/MvaEmPQnbWk

44


Party Rock Anthem

LMFAO (ft. Laurent Bennett & GoonRock)
Let's settle something immediately: that is not a great song!! It sounds very "cheap", a sound of the '80s with little bad raps of late '80s / early '90s style, except for the more electronic parts inspired by The Black Eyed Peas'

The Time / Dirty Bit

and a whole music movement in general that's been on for at least 4-5 years. I've just, like everybody I suppose, catched up on the now legendary concept of "

Everyday I'm shufflin

"! :-)

http://youtu.be/KQ6zr6kCPj8

45




Shotgun

Limp Bizkit

Track somewhat wasted by the lyrics, while already being average from the start, but the shotgun sounds have been brillantly integrated to the song, in a relevant and original way, giving some interest to the final product.

http://youtu.be/Hjah56gj-AM

46




Underground

Jane's Addiction

Never heard on the radio in 2011! I don't understand why, it's pretty good actually... Would have probably made my top 40 if it had played more often.

http://youtu.be/OeN5ynn22as

47




The Legacy

Black Veil Brides

Avenged Sevenfold and Bullet for my Valentine start spawning some kids! Not mature yet, this young band will definitely worth getting watched closely in the future. They have a lot of energy for sure!

http://youtu.be/OsO9wGRf5hI

48




Get Up

Korn & Skrillex

I obviously like less Korn's new style with Skrillex than the "real" Korn that produced so many absolutely memorable songs (

Got the Life

,

Falling Away from me

,

Make me Bad

,

Somebody Someone

,

Here to Stay

,

Thoughtless

,

Twisted Transistor

,

Coming Undone

, etc.), but

Get Up

still managed to enter my head and definitely deserves its place in my top 50 nonetheless.

http://youtu.be/cK8YSsjIaDs

50




Howlin' for You

The Black Keys

Not bad, but it's just not conceived to be a radio single! It should have remained a very good transition song on the album, without being sent to the radios. We always wait for the rise, which never comes and we end up left a bit dry... but the track nonetheless has a very nice sound.

http://youtu.be/TLSpj7q6_mM

52



Comme Avant

Marie-Mai

Not the style she masters best, but the result is still pretty good. Lyrics not bad neither.

http://youtu.be/J5uQoFrXOOY

54




Mettez des Bombes dans mes Oreilles

eXterio

A last tribute to the Quebecker band, which retired after this very last radio single, following a 19-year-long career.

http://youtu.be/_NFDZY2Sdvs

55




Storytime

Nightwish

Clear impression of déjà-vu (compared to Nightwish's previous work but not compared to other bands!), I have not hooked up on

Storytime

yet, but it's probably going to come... It's pretty low ranking is also due to the fact that I haven't heard this song a single time in 2011, I only discovered it in January 2012, two months late... In theory, I would not even have the right to rank it, but I will make a little exception and grant it a spot at the tail of the chart.

http://youtu.be/5g8ykQLYnX0


Also considered:

Facteur Temps

from OK Volca and

Jet Lag

by Simple Plan & Marie-Mai.

Songs that I personnally discovered (late) in 2011, but unfortunately not admitted because they were released before 2011, else they would have certainly all made my top 30:
[Bernard Adamus]

Brun (La Couleur de l'Amour)

(released around Sept. 2010)
[Sandwitch]

Faites de Quoi

(released in 2009)
[Headstones]

Smile and Wave

(released in 1996!! I'm late, not just a little bit!!)


...and we end up once again with... the Top Sucks! :-)

1. [Jennifer Lopez]

On the Floor


Did we really need a mediocre cover of the lambada?!?

2. [Duck Sauce]

Barbara Streisand


There must be something I didn't understand!!!

3. [Taio Cruz & Flo Rida]

Hangover


The chorus is: "

I've got a hangover, oh oh oh!

"... Kind of ridiculous, hey!

4. [Blink 182]

After Midnight


Horribly bad compared to

Up All Night

! They should have kept this one for themselves!

5. [Lady Gaga]

Born This Way


Lady Gaga's worst radio single ever? It lacks all of Gaga's personality... It's a '80s-like song, without inspiration... and it still manages to rank amongst the top hits of the year, which shows how the public has become unconditional to the supposedly hermaphrodite singer...




Powhertz




2012/01/24



Back to Powhertz' main page